Evan
Individual results may vary. Click Images below for a more detailed view.
Case ID:

Smile Transformation
Prev
View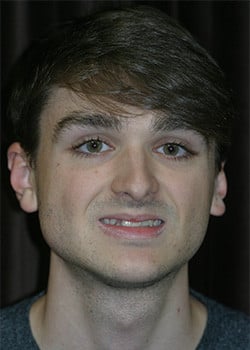 Front: This one will make you take a second look. Evan was born without several permanent teeth and had some other poorly shaped front teeth. As he was growing up he dealt with an assortment of temporary solutions that never worked very well. Obviously, he was quite self-conscious of his smile so he rarely did. Too many people deal with smile problems like this when they don't have to.
Evan came to Dr. Winters ready for a long-term solution that could give him the smile he never had. With some very creative planning, Dr. Winters transformed Evan's smile from one he was embarrassed of to quite possibly his best feature. Incredible transformation in not only his smile but the way Evan presents himself.
Close-up:
Next
View
Doctor:

Dr. Kevin Winters