Get A Brilliantly White Smile In Austin
Do you want a whiter smile? You're not alone! Many of our patients are looking for a way to get a whiter, brighter smile. There are several causes of a dull, unflattering smile.
Maybe you've had discoloration since you were a child that has worsened over the years. Perhaps you have older crowns that are showing a black line at the gums.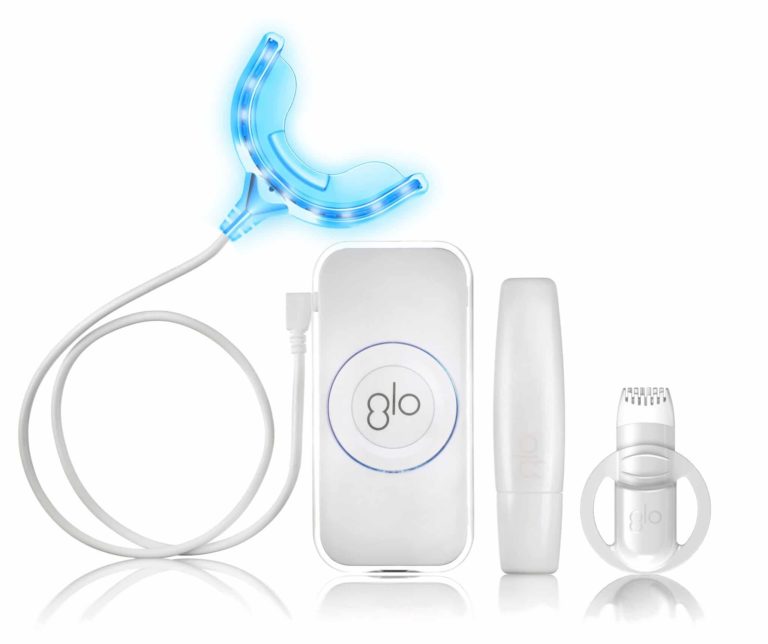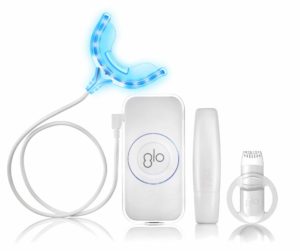 Maybe your failing silver fillings on back teeth are making your teeth appear dull and gray. Or maybe you simply feel your smile is yellowing due to coffee or tea. Whatever your concerns, we can help you find a solution for the white smile you've always wanted. And consultations to discuss your options are always offered free of charge.
In just one appointment at our Austin office, you can achieve a brighter, whiter smile with a laser whitening treatment. Our in-office service offers instant results and many of our clients get as much as 6 to 8 shades whiter – in just one appointment! The patented GLO Science whitening treatment takes just 45 minutes. A patented blue light and whitening gel are clinically proven to whiten your teeth, with zero sensitivity. The treatment is fast and comfortable. Plus you receive a convenient at-home maintenance kit to keep your smile dazzling for years to come. Call our office to schedule your instant whitening treatment for only $500.

Many of our clients like the low cost and easy use of an at-home whitening treatment. There are two at-home kits available from The Hills Dental Spa. The traditional whitening kit consists of a set of custom-made plastic bleaching trays that fit comfortably in your mouth. We take an impression of your teeth and have your kit ready in about 3 days. You will use a prescription strength whitening gel once a day for one hour and follow this routine for 2 weeks to achieve maximum results. What's more, you can continue to use these trays and gel once a month to maintain your ideal whiteness. This system will cost you $250 and is comfortable to wear, with refill gel available for as little as $10.
Or, simply pop by our office and take home a GLO uses patented Guided Light Optic (G.L.O.) technology, with heat resistors strategically placed and LED light built into a closed system mouthpiece. The whitening gel is applied to the teeth, and the mouthpiece activates the gel. You wear the mouthpiece for only 8 minutes. After use once a day for 5 days, you could see an improvement of up to 5 shades whiter! No impressions needed and the same GLO mouthpiece can be used again and again. Your cost for this system is $200 and you'll love the results!

Many clients benefit from the use of simple at-home maintenance products to prevent new surface stains from forming on their teeth.
We recommend a Whitening Toothpaste such as GLO, which is a non-abrasive fluoride toothpaste that tastes great for daily use. This is a great toothpaste for daily use.
Using a clear fluoride mouthwash daily will reduce any sensitivity during whitening and can help rinse away surface stains before they set in.

GLO whitening pens that release a clear, taste-less gel. The gel is applied directly to your teeth and dries instantly. There's no need for trays or strips so it's convenient to use anywhere. Talk normally and go about your normal routine, just don't eat or drink for 30 minutes. The pen is excellent to use daily after your morning coffee or afternoon tea to prevent the dark colored particles from soaking in and causing permanent stains.
If you have whitening trays for use at home but you just don't remember to use them regularly, you might like having us do the whitening for you at each of your dental cleaning appointments. Bring in your bleaching trays to your next dental cleaning and for just $25 you'll walk out of the office with a high-powered whitening gel that you just wear for 30 minutes. That's it and you'll get about 1 shade whiter with no real effort on your part. Feel free to call our office for more details on the whitening products and services available.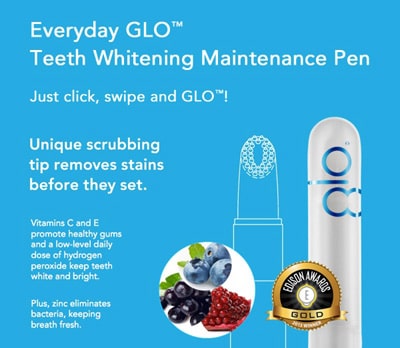 If you have dark spots or white spots on your teeth that won't seem to go away with standard teeth whitening, dental veneers may be the answer for you.  Permanently alter the color of the teeth in your smile with porcelain veneers.  If you want to whiten discolorations that you've lived with for years, make an appointment to consult with Dr. Winters, DDS, about the best treatment option for you.  Changes can be made to your smile in a matter of a few weeks and the benefits of a more beautiful smile will last a lifetime.


Do you have white spots or dark bands on your teeth that you've lived with for years? Often these discolorations can be repaired with a combination of BriteSmile in-office teeth whitening and tooth polishing. Tooth polishing takes just minutes per tooth and is an inexpensive option for removing white spots or evening stains. Often polishing is ideal for cases where the patient is happy with the shape of their smile and the teeth are healthy. In these cases, a simple polish can remove surface discoloration without the need for dental bonding or tooth veneers. Of course, if you want to change the shape of your smile, this might not be the best treatment. If you have discoloration you're concerned about, we can discuss the benefits of teeth polishing.


Replace Old Dental Crowns
Are you embarrassed about a dark black line at the gums where your existing dental crowns are discoloring? This is a common problem if you have porcelain crowns that were made with metal underneath. Sometimes the gums don't like this metal and they can pull away from the tooth crown, creating a small gap between the crown and the gumline. Over time, this tiny gap can discolor to a dark blackish brown that you may not like. This is a problem that can occur on the front teeth or on back molars. Luckily, the fix is simple. We can replace that old dental crown with a solid-porcelain crown that has no metal substructure, eliminating the possibility of a new, unsightly black line forming later. A solid porcelain tooth crown is much more life-like and natural looking than the porcelain/metal combination, and you won't have to worry about gum problems later. Plus, most dental crowns can be done in our office in just one visit, with no annoying temporary to deal with.
Click here to learn more about CEREC Same-Day Dental Crowns in austin, TX


Replace Metal Dental Fillings
Do you feel like your smile is more gray than white? Often, old silver fillings on back molars can make your teeth look gray when you smile. Sometimes this is due to the metal in the teeth, but other times it is caused by new decay that has leaked into the tooth underneath and around the old silver filling. Removing the old metal filling will not only make your smile whiter, but will also make each tooth stronger and more healthy.
Click here to learn more about tooth colored dental fillings in Austin, TX



If you want a brilliantly white, beautiful smile, give us a call today at The Hills Dental Spa! We offer a full range of teeth whitening options for our patients all over the Austin area, including West Lake Hills!
Schedule a Teeth Whitening Consultation
To schedule a consultation or make an appointment with a Teeth Whitening specialist, please call us at (737) 400-0296 or fill out an online contact form and our office will be in touch with you. Thank you for choosing The Hills Dental Spa in Austin, TX!