Veneers in Austin, TX
Porcelain Veneers in Austin, TX
Alter the color and/or shape of the teeth in your smile. You may want to close a gap, straighten a crooked smile, correct broken front teeth or whiten discolorations that you've lived with for years. With porcelain veneers at our Austin office, changes can be made to your smile in a matter of a few weeks and the benefits of a more beautiful smile will last a lifetime.
Call Today To Schedule An Appointment For Porcelain Veneers
---
What are Porcelain Veneers?
Veneers are the ultimate in creating the smile of your dreams. A veneer is a thin piece of porcelain that is custom crafted to fit your tooth precisely. With your input and directions from Dr. Winters, his team of highly skilled dental artists turn a piece of porcelain into a work of art that is indistinguishable from nature.
---
Dental Veneers Before & After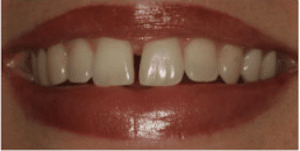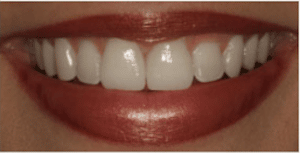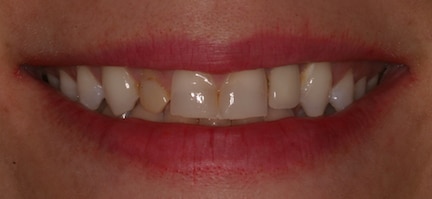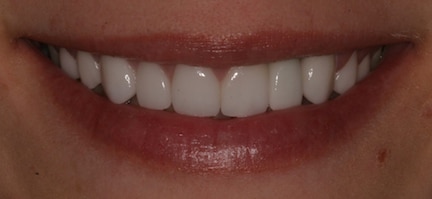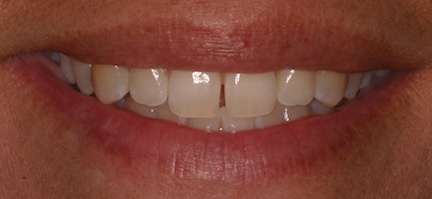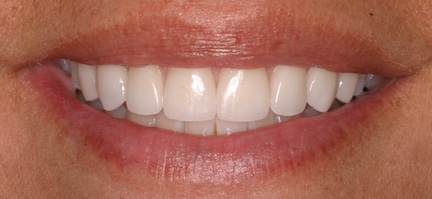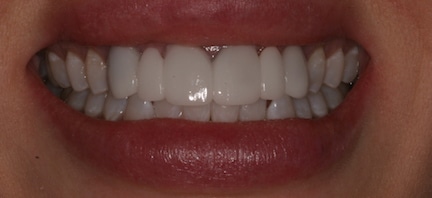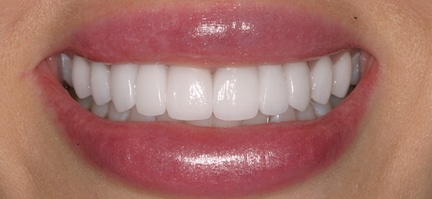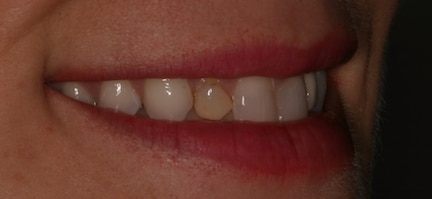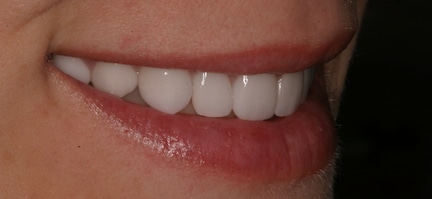 View More Photos of Satisfied Patients
---
Dental Veneers FAQs
Why Do I Need Veneers?
First of all, few people "need" porcelain veneers. This is something that people typically "want". Science has proven that your smile is one of the first and most important aspects of your appearance, as well as how you come across to others. Socially or professionally, a smile that is less than what it could be can leave a negative impression on the people around you.
---
What is Involved in Getting Porcelain Veneers?
The process of getting porcelain veneers occurs in 3 appointments. The first is a consultation appointment where we sit down together to discuss what it is you want in your new smile. Color, shape, and arrangement will all be discussed.
The next appointment is when we will prepare your teeth for the veneers. Impressions are taken and temporaries in the shape we have previously decided upon will be placed. This is your "trial smile" where we can make any adjustments needed. It gives you an idea of what the final shape will be. Temporaries are very esthetic and most people will think they are the final product.
The final appointment is to place the actual porcelain veneers, typically about 2 weeks later. At this time the temporaries are removed and the final veneers are tried on. It is at this point where YOU tell us if we move forward or not. You check the color, shape, etc and ONLY if you are 100% happy do we proceed and put them in. We have a short follow up appointment a week or so later to do any final bite adjustments and to make sure all is perfect.
---
What are the Advantages of Dental Veneers?
Porcelain veneers have multiple uses in dentistry. Whether it is just esthetic improvements or to do more involved changes to help straighten and align teeth, porcelain veneers can be a very long lasting, beautiful way to improve one's smile. An increase in confidence socially and in the workplace has helped people let the real inner self-come out because they are no longer worried about their smile.
---
Will Porcelain Veneers Appear Whiter than the Rest of My Teeth?
We use a shade chart to match the color of your porcelain veneers to the color of your adjacent natural teeth. Before we select that color to match, we usually like to have your teeth whitened to return them to their natural whiteness without stains. From that point forward, that will be the barometer of your tooth color.
Your new porcelain veneers will match that natural white color, and they will not stain. However, your natural teeth will stain, especially if you drink coffee or red wine, and eat certain foods. If your color becomes variable between your teeth with veneers and your other teeth, you can have whitening done on your non-veneered teeth to bring them back to match your brighter veneers.
---
Will Porcelain Veneers Stain Easily?
Porcelain veneers are highly resistant to staining, so they will maintain their white appearance for the long haul.
---
Will Dental Veneers Impact My Diet?
You can eat whatever you want with dental veneers. You should exercise some reticence when it comes to chewing bones, biting into caramel apples, and chewing ice, however, as these kinds of activities can loosen a veneer. Still, you don't have to avoid these few foods, but it's not a bad idea.
---
Will My Teeth Become More Sensitive if I Get Porcelain Veneers?
Removing a small amount of the tooth enamel from the teeth receiving veneers does make them more sensitive to hot and cold initially. But this sensitivity usually passes in a few days and the teeth feel normal again.
---
How Long Do Dental Veneers Last?
Dental veneers, when done properly, can last 25 plus years. Unfortunately, I have redone cases that have failed for one reason or another in as few as 3 years. The determining factor is typically related to the dentists training and experience. Be sure you feel confident with your provider. Ask to see pictures of cases they have done and ask how long have they been doing this procedure.
Dr. Winters has taught hundreds of dentists over the last 21 years as a clinical instructor at the Las Vegas Institute for Advanced Dental Studies. With the number of cases he has done in his private practice combined with the ones he has helped other dentists do at the Institute, you will not find another dentist with more qualifications and experience than Dr. Winters.
---
Are Porcelain Veneers Permanent?
While the porcelain veneers themselves are not permanent, the need to have them is. Let's explain. Once Dr. Winters removes a portion of the enamel from the teeth that are to receive veneers (to make room for the veneer to sit on the tooth, yet occupy the same size as the natural tooth), this removal is permanent. Enamel does not regenerate and it can't be artificially applied.
So, once a tooth has a porcelain veneer on it, that tooth needs to have a veneer for the rest of its life. That said, most porcelain veneers have a 15-20 year lifespan or longer. When the veneers covering your teeth wear out, you'll need to have a new set of porcelain veneers placed to protect the teeth.
---
How Much Do Porcelain Veneers Cost?
The cost of porcelain veneers varies by location across the country and also by the skill of the doctor. The range can be anywhere from $600 or 700 at a chain type of office to as much as $4000 per tooth in New York or Los Angeles. The fee in our office is typically between $1650 to $1800 per tooth. You can certainly get it cheaper somewhere else, but you can't get it better.
---
Does Insurance Cover Dental Veneers?
Dental veneers are classified as a "cosmetic/aesthetic" procedure, so they are not covered by dental insurance.
---
The Hills Dental Spa proudly serves Austin, TX and the surrounding areas, including Westlake Hills. To schedule an appointment for porcelain veneers in Austin, TX call us at
(512) 347-0044
today or fill out our
contact form
for more information.