Relax. Rejuvenate. Be healthy! Enjoy a soothing hand massage or peppermint foot scrub during your dental treatment to help relieve anxiety or just to be pampered. Treat yourself to a full body massage. With various types of massage & treatments ranging from 10 minutes to 2 hours, you are sure to find the perfect way to rejuvenate tired or aching muscles.
Improve skin tone and texture with a facial, or learn more about skin care products for a spa-like treatment in your own home.
Need a gift for someone hard to buy for, give the gift of relaxation and better health! Gift Certificates and Spa Packages available for various price ranges.
For exceptional deals on spa services, be sure to sign up for our weekly spa email. Follow us on Twitter or like us on FaceBook for other exclusive discounts.
Massages & Skin Treatment
Massage has direct benefits for the body & mind. Most of us know massage relaxes and refreshes the muscles, but did you know it also helps increase metabolism, speeds healing, improves blood circulation and aids in detoxifying the body's lymphatic (filtering) system?
Research shows, massage can relieve fatigue, reduce tension & anxiety, calm the nervous system, and promote relaxation. Everyone's needs are different, but frequent massage can improve your body's reaction to stress and even reduce your daily tensions, which instills a greater sense of well-being.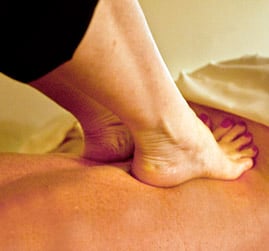 Chair Massage is available in our client lounge area and is an excellent way to take the edge off just before a dental appointment. $1 per minute
During your dental appointment, therapies are available to help you relax and relieve any anxiety you may feel about being at the dentist. In addition to the complimentary services we offer for your comforts, such as a warm neck wrap and aromatherapy, you may also select to have a relaxing spa service during your dental care:
SPA Products Available For Purchase
Herbal neck wrap $27
Soy candle $14
Gift certificates are available for any service
Receive discounts when you sign up for our weekly spa special
Discuss with your therapist whether you need to reduce stress with a massage using a light to medium touch, or if you need a focus on the deeper layers of the muscle tissue for therapeutic benefits. Your massage is customized to fit your needs. There is no extra charge for specialty services, such as pregnancy massage, sports therapy, hot stone treatments, even foot reflexology. Review the modalities available and discuss your needs — we'll get you exactly what you want. Pricing Is The Same For Any Therapy You Choose!
15 minutes $25
30 minutes $45
45 minutes $65
60 minutes $80
90 minutes $120
120 minutes $160
Provides a light to medium touch for full body relaxation.
Where your therapist uses a combination of deep tissue massage, myofascial release and stretching to provide a therapeutic treatment specifically designed for the sore or fatigued muscles of a highly active individual or athlete.
Utilizes heated basalt stones and aromatic oils to soothe your muscles, release toxins, and provide you the ultimate in relaxation.
Allows expectant mothers to alleviate many challenges resulting from pregnancy, such as muscle aches, fatigue, headaches and water retention. Maximum comfort is a focus during this treatment.
Focuses on specific pressure points on your feet to increase energy flow to various corresponding organs throughout your body. Experience this foot treatment with total body benefits. Can be booked alone, or as an add-on to a full-body massage.
Relieves stress and tension. A focused massage, treating your scalp, face and jaw muscles is particularly beneficial following a long dental appointment. This can be a specialized massage on its own or can be added to a full-body massage.
Localized massage of the jaw muscles and joints. Clients who clench and grind their teeth or those who suffer from ongoing jaw joint pain will benefit from a series of sessions.
All-natural skin care products of the highest quality will refresh & moisturize the skin while promoting a healthy glow. Includes cleansing, exfoliation, a healing clay mask, toner, moisturizer, and eye cream. Plus, the service improves elasticity and reduces the appearance of fine lines.
Put together the perfect experience by combining treatments during your session. Aromatherapy is complimentary, as is heat therapy and a cool, soothing eye mask. You will feel fantastic after discussing your needs with your therapist to ensure you get the most out of your spa appointment.
512-347-0044
For exceptional deals on spa services, be sure to sign up for our weekly spa email. Follow us on Twitter or like us on FaceBook for other exclusive discounts.
See What Our Patients Are Saying
"Throw out your preconceived notions about dentistry and go be pampered in the lap of luxury at The Hills Dental Spa. Any angst with seeing the dentist will quickly dissolve as all your needs are cared for."
Click here to read more reviews.
Our in-house massage therapist, Carol, provides our valued patients with comprehensive spa treatments that meet the needs of the busy lifestyles we lead today.
"I am so happy to be part of the Hills Dental Spa Team! I love the family atmosphere, dedication, and teamwork! As a therapist, my goal is to promote health and wholeness. I am excited to offer treatments before, during or after your appointment as well as on the days in between. Massage helps us to relax, reduces stress, relieves emotional and physical pain, increases circulation and is beneficial to overall well being. It's important for me to give and receive massage on a regular basis."