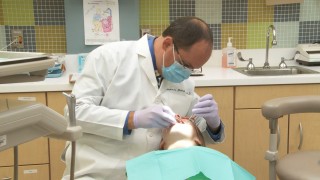 from www.NewWise.com – Released: 1-Feb-2016 12:05 PM EST
Source Newsroom: University of Alabama at Birmingham more news from this source
Newswise — BIRMINGHAM, Ala. –
February is National Children's Dental Health Month, an opportunity for parents of toddlers, young children or teenagers to explore questions about keeping your child's teeth clean, your child's first dental visit or how to protect children's smiles.
UAB School of Dentistry Director of Predoctoral Pediatric Dentistry Stephen Mitchell, DMD, says parents can take an active role in the oral health of their children. Starting with young children, building a foundation with a balanced diet, limiting snacks, brushing and flossing each day, and regular dental checkups are the keys to a lifetime of healthy teeth and gums.
Snacking and tooth decay
Tooth decay is the most common chronic disease experienced by children and is four times more common than asthma. The same things that increase the risk of obesity increase the risk of tooth decay.
"Diet is about more than teeth," Mitchell said. "It impacts all aspects of a child's development."
Mitchell says that any drink that contains natural or added sugar can lead to tooth decay if consumed frequently throughout the day.
"Look at the nutrition label," he said. "If the calorie count is higher than 10 per serving, parents should be careful."
He also added that parents should limit their child's number of higher-calorie drinks to one or two times per day.
Providing balanced meals including fruits, vegetables, grains, proteins and dairy three times a day should properly fuel a child and remove the need for continual snacking throughout the day.
Limiting sweets can reduce a child's risk of tooth decay.
"Make sweets a treat," Mitchell said. "On a normal day, parents should limit their children to a combination of one or two sugary drinks, desserts or candies."
Tooth decay is impacted more by the number of times sugar is in the mouth than the total amount of sugar consumed during the day.
Mouth guards
So many children and teenagers who play recreational sports can experience blows to the face.
Mitchell says baseball is the most common sport to cause facial injuries for 7- to 12-year-olds, while basketball becomes the most dangerous sport during the teen years. The American Academy of Pediatric Dentistry recommends fielding masks for young people playing baseball.
Custom mouth guards offer the best protection, but can also be the more expensive option.
"Custom mouth guards can be a great investment after a child gets all of his or her permanent teeth," Mitchell said. "When baby teeth are still present, I recommend buying a less expensive boil-and-bite mouth guard that can be reformed as teeth are lost and new ones are gained.
Mitchell also added that all mouth guards should be kept clean.
"Brush it just as you do your teeth," he said. "A denture cleaner can also be used periodically for a deeper clean."
Sippy cups
Even though sippy cups, also called training cups, are a popular option for toddlers and young children, many parents unknowingly let their young ones misuse them, increasing risk of tooth decay.
"Tooth decay, especially 'baby bottle tooth decay,' is all about the amount of time a child's teeth are exposed to sugars," Mitchell said. "If you use a bottle or sippy cup, use it while the child is at the table for mealtime. Do not allow children to carry the cup around with them, and never allow them to sleep with it."
A child's first dental exam
When it comes to finding the right dentist, there are a few things for which Mitchell says parents should be on the lookout.
General or family dentists receive one month of training in the basics of children's dentistry during their education. Pediatric dentists complete an additional two or three years of training to care for medically, emotionally and developmentally complex children.
"Pediatric dentists who are certified by the American Board of Pediatric Dentistry have additionally completed a test process demonstrating they are familiar with many of the latest evidence-based procedures in care for children," Mitchell said.
At a child's first dental exam, parents should expect to discuss with the dentists how to best care for their child's dental health at home. The dentist will look at the child's teeth and evaluate any sign of decay, gum or developmental problems. The teeth may be cleaned, and a fluoride varnish may be applied to the teeth.
General dental health tips
While many people may think they are brushing their child's teeth the right way, Mitchell suggests parents brush for two minutes twice a day while focusing the toothbrush where the teeth and gums come together. When baby or permanent teeth touch together, flossing between those teeth is imperative.
Mitchell also suggests that parents brush for their children until they are age 6 or 7, when they are older and coordinated enough to brush on their own. He urges parents to give their children an inspection after they brush.
For more information, visit the UAB School of Dentistry website.
Related Experts
What the General Public Needs to Know About Zika: Southern Research Infectious Disease experts available to speak
Professor teaches leadership using popular Transformer Toys
Children's Hospital Los Angeles Expert to Discuss Novel 3-D Motion Analysis as a Tool to Predict Risk for Knee Injuries
Concussion Experts Available to Speak on Current Research & Development at UAB
Hour of Code Can Be the Spark Needed for Interest in Computing
Stony Brook Medicine Expert Available to Discuss Prematurity Awareness, World Prematurity Day
@NancyatHeart CEO @American_Heart on #obesity stats, #racial gaps from @CDCgov
Concussion Expert and Mom Speaks Out About U.S. Soccer Federation Heading Guidelines